Tadeusz Rolke's presentation "Places"
March 31, 2011 / 6.00 pm
Center for Urban History, Lviv
Tadeusz Rolke talked about his works and creativity. The talk went along with the slideshow from his archives he has been collecting during his artistic career since the 1940s.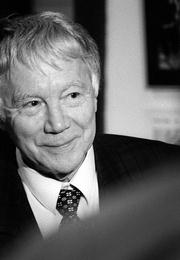 Marek Grygiel on Tadeusz Rolke
[He] began to photograph in the 50's. It wasn't the most favourable period for Polish photography. Especially hard was the first half of the decade with its domination of the socialist realism in visual arts. Photographic journalism being close to everyday life was subjected to censorship. Photographs in newspapers existed only as an extra to varnish the reality. Any attempts to surpass this conventionality were doomed to fail. Tadeusz Rolke was taking his first pictures with a simple German-made camera Welta....
The political tensions of the late 60's, the events of March '68 and the invasion of Czechoslovakia by the Warsaw Pact armies caused that he had left Poland for the next decade and settled in Hamburg, Germany. In spite of very difficult beginnings and hardships of exile life (for six years he wasn't allowed to come back to Poland) he didn't give up photography. He prepared in cooperation with the organisation "Action the Signs of Expiation" the exhibition which documented visits of young German people to some places known of atrocities committed by Nazis during the Second World War. This educational exhibition was presented in some of German towns. In Hamburg he realised series "Fischmarkt" about one of Europe's biggest fish marts. This series documented a very specific professional milieu, difficult to penetrate and hard to present properly with its atmosphere and problems of the people of this vanishing trade. This exhibition, which was warmly welcomed by German critics, was later also presented in Poland after Rolke has received the new passport and could visit Poland again.
In 1980 he made the exhibition "Light Theatre" about important European theatre festivals like these in Nancy, the Fools Festival in Amsterdam and the Theatre of the Nations in Hamburg. In 1982 he has begun to contribute to the German "ART" magazine by publishing very personal documentation of the achievements of Polish and foreign artists. The other big exhibition of which Rolke was main originator and executor was the collective presentation called "Violence, Sex, Nostalgia". This controversial show was opened in 1989 in Stara Gallery ZPAF in Warsaw.
Critics remark that Tadeusz Rolke's photos are dramatic for their humanism and focus on people's life both in private and in public. In 2009, the jubilee exhibition contained 120 pictures, taken nowadays and back in the time of the Polish People's Republic that has become the classics of Polish photography, presenting different topics, techniques, aesthetics and formats. "The exhibition is entitled in the way to show that photography is everything for me: a way of communication, a panacea of all problems, a way of earning a living", says Rolke.
Credits
Сover Image: Tadeusz Rolke, "Lucy. Aleje Jerozolimskie 1967"