Socialist Cities in the Ukrainian SSR: Idea, Realization, Heritage
Roman Liubavskyi
V. N. Karazin Kharkiv National University
5.9.2023; 16:00
Library of Center for Urban History
During the urban seminar, Roman Liubavsky will present a brief description and structure of his forthcoming book about socialist cities in the Ukrainian SSR. The research focuses on analyzing the space of socialist cities in Kharkiv, Zaporizhzhia, and Kryvyi Rih. The study aims to analyze the idea and implementation of socialist city projects, explore them as part of the Soviet heritage, and analyze the evolution of their images and ways of representation in the space of modern Ukrainian cities. The project involves studying the space of socialist cities in three dimensions: spatial, symbolic, and vernacular.
In his research, Roman Liubavsky raises the question of the image of socialist cities in the 1930s, paying special attention to the analysis of the change in discourse in describing their space in city guides in the second half of the twentieth century and the process of reviving interest in socialist cities in the public discourse of the 2000s and 2010s.
The author proposes to move away from the view of socialist cities as a "Soviet urban cemetery" only. The utopian nature of certain architectural solutions or the fact that the Soviet government had problems with creating a developed social infrastructure are obvious. However, this should not distract from the fact that the spaces of socialist cities (nowadays ordinary residential areas of cities) were and are still spaces of people's lives. The question is how do the people who live there perceive these spaces? How did the toponymic landscape of these areas change during decommunization - spaces that have no other past than the Soviet one? The key questions for this project are the boundaries of the socialist cities' space, the definition of its symbols, and the perception of the Soviet architecture of the district (socialist city) as a heritage by residents. These and other issues will be discussed during the seminar.
Working language – Ukrainian.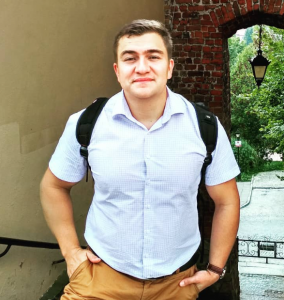 The seminar will be held in the format of a workshop, to which researchers are invited to discuss research projects, projects at various stages of development, and completed researches that are being prepared for publication.
Participation in the city seminar requires preliminary reading and discussion of the researcher's text. If you would like to join the seminar, please email Yelyzaveta Bobrova ([email protected]) and we will send you the materials in advance.
Credits
Cover Image: socialist city "New Kharkiv" / Constructivism.Kharkiv