Long Durations of Rapid Response: Talking About Interviews in Wartime
Dr Natalia Otrishchenko
Center for Urban History
Library of Center for Urban History
A seminar around the forthcoming book by sociologist and Center researcher Natalia Otrishchenko.
How to record and preserve the history of war while being inside the war? What skills and knowledge are needed for this? What are the consequences of quick decisions? How do we envision the future of documentation based on eyewitness accounts? Sociologist Natalia Otrishchenko sought answers to these and other questions in conversations with researchers who have been recording stories from the first months of Russia's full-scale invasion of Ukraine.
During the seminar, we will discuss the introduction and structure of the book, which is built around interviews with those who conduct the interviews. The collection serves as a methodological guide, a space of frankness and vulnerability, and a kind of notch in the timeline that records the reactions of the scientific community to the challenge of extraordinary circumstances. It offers an alternative to the usual formats of academic writing because it is dialogic and polyphonic. The book also invites to joint thinking and the development of "best practices" for collecting, preserving, and publishing eyewitness accounts of the war while the war is still ongoing.
The work on the collection was made possible thanks to the support of the Polish Science Foundation and the Körber Foundation. The men and women who joined the Armed Forces of Ukraine made it possible to work on this text while remaining in Lviv.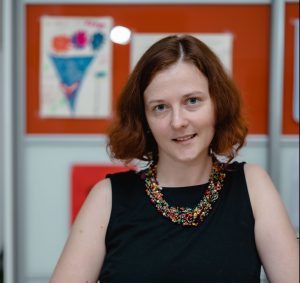 Credit
Cover Image: Kateryna Konsulova, Magritte // Archive 404 // Urban Media Archive of the Center for Urban History