Oil and Power: Jewish Elites in the Industries of Drohobych and Boryslav
Dr. Vladyslava Moskalets
Center for Urban History
11.7.2023, 15:30
Library of the Center for Urban History
During the urban seminar, Vladyslava Moskalets will present a brief description and structure of her future book "Oil and Power: Jewish Elites in the Industries of Drohobych and Boryslav." It is the story of three generations of Jewish families involved in the oil industry of Galicia (Halychyna).
The oil history of the Galician (Halychyna) province was mainly a Jewish history that transformed the usual hierarchies in Drohobych and Boryslav. The active participation of Jewish entrepreneurs and workers changed the way socialist discourse viewed the Jewish community – while Jewish elites were perceived as a capitalist threat, Jewish workers became the hope for future political movements. The book examines the gradual development of a network of connections that allowed entrepreneurs to gain economic dominance in the city, as well as social status and influence. At the beginning of the 20th century, despite the ousting of Jews from the oil industry, several families were able to gain power within the city and in the empire's capital. Even when the oil business was no longer their primary source of livelihood, their connection to Galicia (Halychyna) remained strong. This text comes in a dialogue with the literature on Jewish business networks that emerged in recent years. It offers an analysis of the rise of oil elites in close connection with non-Jewish elites and in the context of urban change in Galicia (Halychyna) in the second half of the 19th and early 20th centuries.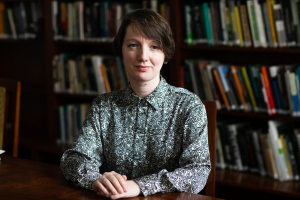 The event has a format of a workshop, with the guest researchers to discuss academic projects and research works on different stages of progress, and of the completed projects prepared for print.
Participation in the Urban Seminar implies reading and discussing the researcher's text. If you wish to join the workshop, please, send an email to Maryana Mazurak ([email protected]) to receive the materials in advance.
Credits
Cover image: Postcard from Boryslaw, 1908 / Biblioteka Narodowa / polona.pl
Gallery: Sofia Andrusyshyn