Policy of the Second Polish Republic in Developing Architectural Environment of Volyn Towns
Yulia Yagodka
National University of Water and Environmental Management, Rivne
November 19, 2019 / 4.00 pm
Library, Center for Urban History
Architectural image of a city is formed by gradually "absorbing" the trends of style of various periods. The history of Volyn that has regularly found itself at the periphery of empires and states (Grand Duchy of Lithuania, Russian Empire, Second Polish Republic) illustrates diverse strategies of authorities to develop territories. The approach was often shaped under confrontation between different levels of power. Housing development in small towns of Volyn during the two interwar decades is a unique case of implementing the "borderland ideas of Stronghold and Mission" developed in Poland in the early 1920s. Besides, it manifested modernization of all facets of social and cultural life, and development of urban space.
An important role in implementing the transformations went to the architectural and town planning activities, such as in the transformation of urban space. An intense social economic development of the region during this period caused the implementation of expertly justified strategies for spatial functional development of urban structure. It was intended to regularize their built-in environment and increase the comfort of living conditions for residents. Typology of architectural objects expanded, volumes of construction grew, including also of residential facilities, public institutions, cultural and education establishments, churches, industrial facilities, etc. Challenges in this area were large in scale and complicated in structure. They required huge financial investment and intellectual effort of many experts at various levels. One of the primary objectives of municipal authorities was to regulate, renovate the available objects, and duly develop the future housing.
Architecture of the twenty interwar years is primarily based on innovative solutions aimed at combining the aesthetics and maximum possible functionality. Romantic traditionalism actively promoted by the 20th century urban scholars as a basis of Polish urbanism was founded on partial renovation of urban space. It also centered on reconstruction with the focus on features of national cultural identity.
Yulia Yagodka will conduct the analysis of architectural and town planning processes, peculiarities of built-in environment and the planning structure of small Volhynian towns such as Volodymyr-Volynsk, Horokhiv, Hoshcha, Dubno, Zdolbuniv, Kremenets, Kostopol, Kovel, Korets, Liubomyl, Ostroh, Radyvyliv, Rozhyshche, Rokytne, and Sarny. Through the lens of this analysis, she will trace peculiarities of policy impact in the Second Polish Republic on urban development of peripheral urban space in the 1921-1939. She will present a generalized picture of an architectural image of urban settlements during the period under study.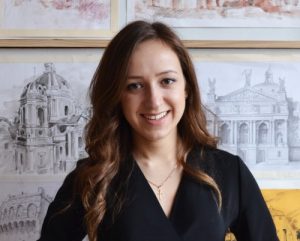 The event has a format of a workshop, with the guest researchers to discuss academic projects and research works on different stages of progress, and of the completed projects prepared for print.
Participation in the Urban Seminar implies reading and discussing the researcher's text. If you wish to join the workshop, please, send an email to Nataliia Otrishchenko ([email protected]) to receive the materials in advance.
Credits
Сover Image: Kremenets, 1930s, J. Boguszewski