Intern at the Urban Media Archive | Memory Savers
As part of the Memory Savers program, an intern, Mykyta Bilyi, joined the team of the Urban Media Archive.
During the internship, the trainee will be involved in the educational program on digitization and modern museum work, in particular, short-term and long-term archiving, digital preservation of various museum objects, museum photography, and online publication of collections.
During three months at the Urban Media Archive, the intern will learn the practices of working with archives, including:
Digitize collections of photographic negatives, printed photographs, albums, and documents, and research digitization standards.
Work with metadata, describe collections.
Master archival software.
Will be able to participate in the events of the [unarchiving] program.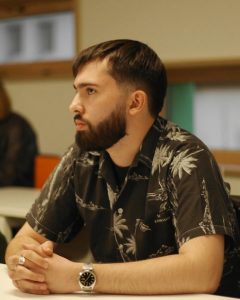 Urban Media Archive of Center for Urban History consists of digitized or digitally created visual, audiovisual, and audio resources that show the city and tell about urban life in Central and Eastern Europe in the 19th-21st centuries. The tasks of the archive are to collect, store, research, make available, and popularize collections and materials that are often overlooked by state archival collections. The Urban Media Archive is also a place for analyzing archival data and rethinking the role of the archive in society as a whole.
The Memory Savers program is conducted jointly by the Center for Digital History and SUCHO (Saving Ukrainian Cultural Heritage Online) and is funded by the Foundation EVZ (Memory, Responsibility, Future, Berlin, Germany).
Credits
Cover Image: New Year celebrations in Lviv, 1960s // Julian Dorosh // Urban Media Archive