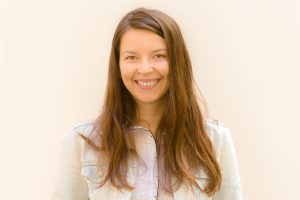 ---
The area of responsibility includes organization and logistic support of the events of the Center, office management and Center's website administration.
Worked as a communications manager in the Dzyga Art Association in the projects "Flugery Lvova" (2016, 2017), "JazzBez" (2015, 2016), "Days of Performance Art" (2015, 2016), "East Partnership Culture Congress" (2015), "Lviv Month in the European Culture Capital – Wroclaw-2016," project "Terra Cognita" of the resident artists "Schafhof Europäisches Künstlerhaus in Bayern" (2015).
Background – translation from German, international economic relations (Uzhgorod National University).
Took part in numerous conferences and seminars on project management organized by the British Council, Goethe Institute and the Theodor Heuss Collegium. Mentor at the program "Workshop of Civic Activism." Local coordinator in the international environmental activity "Let Us Make Ukraine Clean" in Transcarpathian region in 2014.