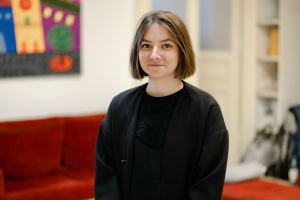 ---
She received her bachelor's degree in Cultural Studies from the Ukrainian Catholic University (2022). Currently, she is pursuing a master's degree in media communications at the School of Journalism and Communications at the Ukrainian Catholic University.
In 2021, she completed an internship at the Cultural Strategy Institute (CSI) and participated in focus group interviews as part of the project "Cultural Heritage of Lviv Region. Reboot" project of the Lviv Regional State Administration in partnership with the CSI and the Ukrainian Cultural Foundation; conducted excursions to the exhibition organized within the framework of the ICS project "Art Resistencia". She did an internship at the Urban Media Archive of the Center for Urban History (2022), where she worked with the digitized collection of Mykola Bilokon. After the outbreak of Russia's full-scale war against Ukraine, she was working on the collection of the media archive "Visual Documentation of War".
At the Center for Urban History, she is engaged in communication support of events and various activities.