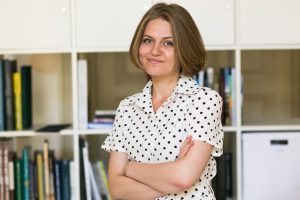 ---
Received her ВА & MA at the Ukrainian Catholic University (Lviv, Ukraine). She started with studying the Ukrainian Social Democratic Party of 1919-1939, and then moved on to the research of socio-political and cultural settings of the interwar Lviv. The diploma paper was about the "Sygnały" magazine (1933-1939).
Within the Erasmus+ program, she studied at Otto-Friedrich University (Bamberg, Germany) where the key focus of her interest was on culture studies and (specifically) of the 20th century art. The studies resulted in the paper about an incident in art as illustrated by the creative work of Diet Sayler.
She also took an internship in the Peggy Guggenheim museum (Venice, Italy), and participated in the workshop "Reading the Other" (Krasnogruda, Poland); also in the program "Study Tours to Poland" (Lublin-Warsaw-Krakow, Poland), and under the scholarship at the Julius Maximilian University (Wurzburg, Germany).
Scope of interests: public history, exhibition management, museum studies, history of art, culture journalism.