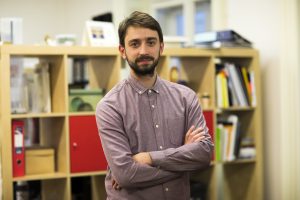 ---
Obtained a Master's degree in Communication Design at the University of Wrocław (Poland) and a Bachelor's degree in Journalism from the I. Franko National University of Lviv.
As an Erasmus Programme member, he studied at Masaryk University (Brno, Czech Republic), where he studied cultural anthropology and social media.
He worked in a range of Internet projects: 24tv.ua, "Telekrytyka," and the web site for Credit Suisse.  He was a joint author of the Verify project.  On the community level, he actively promotes bicycling in Lviv.
His areas of interest include new media, digital humanities, and communication design.
At the Center for Urban History, since August 2016 he has been working on coordinating the project "Lviv Interactive"