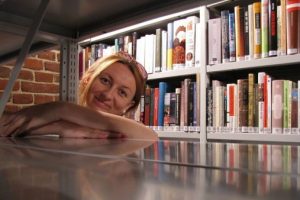 ---
Her responsibilities include filling, cataloging, and systematizing the library.
She graduated from the Ukrainian Catholic University (Master of Theology), Lviv National University (Master of Journalism). Participated in a certificate program "Management of Non-Profit Organizations" from the Institute of Leadership and Management at UCU (2013). In 2018-2019, she is participating in a certificate program at the Ministry of Culture of Ukraine "Academy of Cultural Leader".
She has experience working as a civil servant at Buchach district state administration (2009), and did administrative work in the department for development of Ukrainian Catholic University (2009-2010), and administrative work at the Center for Urban History of East Central Europe. Since 2015 she works as a program director at the Agnon Literary Center in Buchach on a voluntary basis.
Mariana is involved in contemporary Ukrainian literary life, writing poetry and prose, creating video poetry. She has published two poetry collections. She has participated in numerous national and international literary festivals and projects.