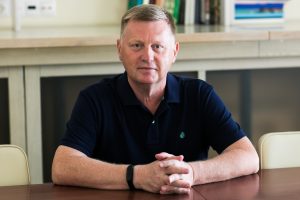 ---
Candidate of History majoring in the History of Ukraine (1996, Ivan Krypyakevych Institute of Ukrainian Studies at the NASU), graduate from the History Faculty at Ivan Franko National University in Lviv (1991). Topic of dissertation - "Ukrainian National Democratic Party, 1899-1918".
Was on an internship at the Institute of east European History at Vienna University, at Institute of East European History and Area Studies at the University of Tübingen (Germany). He held the following scholarships: Constantin Jirecek (Vienna, Austria), ÖAD (Austria), Alfried Krupp von Bohlen (Germany), Hanns-Seidel-Stieftung (Germany), Gerda Henkel Stiftung (Germany), DFG (Deutsche Forschungsgemeinschaft) (Germany). Took part at scholarly conferences and workshops in Ukraine, Poland, Austria, Germany, France, Belgium, and Israel. He was enegaged in the projects at the Ludwig Boltzmann Institute (Graz, Austria): "Kriegserfahrungen an der Ostfront des Ersten Weltkrieges im Vergleich" (The Experience of War in the Eastern Front during the First World War: a Comparative Study) and "Die Ukraine zwischen Selbstbestimmung und Fremdherrschaft 1917-1922" (Ukraine Between Independence and Foreign Domination in 1917-1922).
He does scholarly editing in the "Lviv Interactive" project, and is engaged in the exhibition projects and public history research.
Academic interests include: history of Galicia in the 19-20th century, historical policy, politics of memory, and memorial sites.
Selected publications:
Політика пам'яті і пам'ятники: Львів - Чернівці / Чернівці в контексті урбаністичних процесів Центральної та Східної Європи. Чернівці 2008. С. 237-247.
Політика пам'яті і подолання міжнаціональних стереотипів // Історичні міфи і стереотипи та міжнаціональні відносини в сучасній Україні. Львів 2009.
Ein habsburgischer König für die Ukraine? Wilhelm von Habsburg und Kaiser Karl I / Karl I (IV.), der Erste Weltkrieg und das Ende der Donaumonarchie. Wien-Rom, 2007. S. 223-230.
Die Westukrainische Volksrepublik von 1918/19. // Die Ukraine zwischen Selbstbestimmung und Fremdherrschaft 1917-1922. Graz, 2011. Sonderband 13. S. 181-203.
Die Sicht von innen – Besatzungsalltag. // Die Ukraine zwischen Selbstbestimmung und Fremdherrschaft 1917-1922. Graz, 2011. Sonderband 13. S. 325-345.
Греко-католицьке духовенство: політичні, культурні й соціальні виміри // Велика війна 1914–1918 рр. і Україна: у 2 кн. / [упоряд. О. Реєнт; голова редкол. В.Смолій]. – Київ: Кліо, 2013. – Кн. 1: Історичні нариси. – С. 604–621 [співавт. А.Заярнюк]. Історичні нариси. – С. 604–621 [співавт. А. Заярнюк].
The Western Ukrainian People's Republic of 1918–1919 / The emergence of Ukraine: self-determination, occupation, and war in Ukraine, 1917-1922, Toronto 2015. P. 132-155.
The View from Within: Everyday Life during the Occupation / The emergence of Ukraine: self-determination, occupation, and war in Ukraine, 1917-1922, Toronto 2015. P. 280-298.
Церковно-релігійне життя // Історія Львова. Т.2. Львів, 2007. С. 525-536. (0,7 друк. арк.
Економічна криза. Соціальні проблеми // Історія Львова. Т.3. Львів, 2007. С. 416-422. (0,7 друк. арк.)
Rassewytsch W., Zur Geschichte der Region Galizien // Deutsche Akademie für Sprache und Dichtung. Jahrbuch 2008. Wallstein Verlag, S. 14-23.
Галицьке греко-католицьке духовенство у Першій світовій війні: політичні, культурні і соціяльні аспекти (у співав. з А.Заярнюком) // Ковчег, Т. VI. Насилля влади проти свободи сумління. Львів, 2012. С. 160-192. (1,7 друк. арк.)
Україна: національне кіно, національний наратив, спроби "виправлення" історії // Наукові записки Українського католицького університету. Журналістика Медіакомунікації, Число VII, Львів 2015. С. 86-101