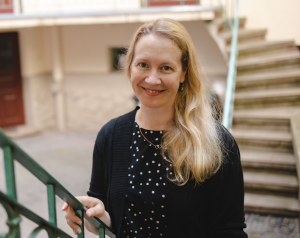 ---
She has a PhD from the Department of History at Princeton University. Her thesis was entitled "Beau Monde: State and Stage on Empire's Edge, Russia and Soviet Ukraine, 1916 – 1941." Fowler holds a BA in Russian literature and an MA in acting.
Research interests: social history of culture, cultural history of society, cultural exchange on imperial borderlands, governance, creativity, reception of art.
In winter 2011 Dr. Mayhill Fowler was teaching a one-semester course, entitled "Backstage in the Borderlands: Problems in the Social History of the Arts" for undergraduate and MA students of the Ukrainian Catholic University and the MIHuS program. The seminar was also open for undergraduate and graduate students of other schools.
Awards:
American Council of Learned Societies / Mellon
Dissertation Completion Grant, 2010-2011
Social Science Research Council
Eurasia Dissertation Completion Grant, 2010-2011 (declined)
Center for Urban History of East Central Europe, 2008
Recipient of a residence grant for dissertation research in Lviv, Ukraine
Princeton Institute of International and Regional Studies (PIIRS), 2007
Recipient of a summer grant for dissertation research in Ukraine
Princeton Institute of International and Regional Studies (PIIRS), 2006
Recipient of summer grant for Polish language study in Krakow, Poland
Conference Papers / Presentations:
"Performing the Periphery: Rise of New Elites in Soviet Kharkiv," presented at Annual Meeting of Association for Slavic, East European and Eurasian Studies, Los Angeles, November 2010
"Cultures Interwoven: An Introduction to the Imperial Cultural Sphere," invited talk at the Ukrainian Museum, New York City, November 2010
"Tricksters at Cards: Les Kurbas, Ivan Mykytenko, and 1930's Dyktatura," invited talk at the Shevchenko Scientific Society, New York City, November 2010
"Tricksters at Cards: The Official Artist and the Challenge of Soviet Ukrainian Culture in the 1930s," at European University Institute / Princeton University conference on Globalization and De-Globalization, Italy, November 2010
"Imperial Loss, Imperial Gain: Sovietization of Theater in Lviv, 1939-1941," presented at Oxford University-sponsored conference "Culture Beyond Nationalism," Lviv, Ukraine, February 2010
"A Café Called Hell: 1929's Hello from frequency 477 and the Creation of a Soviet Ukrainian beau monde," presented at Annual Meeting of American Association for the Advancement of Slavic Studies, Boston, November 2009
"A Café Called Hell: Forming a Soviet Ukrainian beau monde in the 1920s," presented at Center for Urban History of East Central Europe, Lviv, Ukraine, May 2009
"After Youth: Beau monde of Early Soviet Ukraine, 1919-1922," presented at Annual Meeting of American Association for the Advancement of Slavic Studies, Philadelphia, November 2008
Publications:
"'A Theatrical Mecca': The Stages of Kyiv in 1907," Modernism in Kyiv: Jubilant Experimentation, edited by Virlana Tkacz and Irena Makaryk (Toronto: University of Toronto Press, 2010), 26-51.
Book Review of Iurii Shapoval, Poliuvannia na Val'dshnepa: Rozsekrechenyi Mykola Khvyl'ovyi (Kyiv: Tempora, 2009), in Kritika: Explorations in Russian and Eurasian History (accepted, forthcoming 2011)