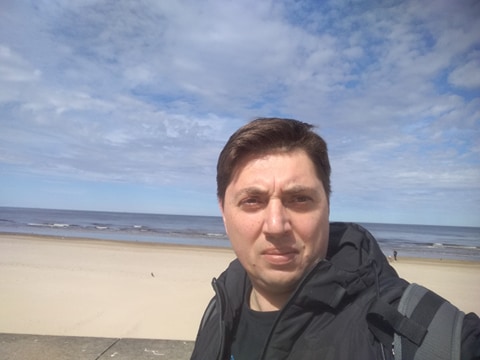 ---
Research topic:

Documenting Experiences of War

Period:

April 2022 – present
Candidate of Historical Sciences, Associate Professor of the Department of International Relations and Foreign Policy of Mariupol State University. In 1996, he graduated from Mariupol State University majoring in History. In 2003, he defended his PhD thesis on "Cultural Development of the Greek Community of Ukraine in the Second Half of the 20th Century" at the Institute of History of Ukraine of the National Academy of Sciences of Ukraine (Kyiv). He has 26 years of experience in teaching and research; he teaches disciplines in history, political science, and social communication.
Award holder of the Ivan Vyhovsky Award from the Institute of Eastern Europe of the University of Warsaw (2017). As part of the program, he took an internship at the Catholic University of Lublin and the University of Warmia and Mazury in Olsztyn. He was a visiting researcher at the University of Latvia (2020) and the Jan Skütte Institute of Political Studies of the University of Tartu (2021). He was the academic coordinator of the Erasmus+ project "Rethinking Regional Studios: Baltic-Black Sea Communication" and headed the Center of Baltic-Black Sea Studies of Mariupol State University.
Recent publications include articles in collective monographs of Springer Publishing House - "Between History and Propaganda: Estonia and Latvia in Russian Historical Narratives", "Russian-Ukrainian War in Donbas: History as a Tool of Propaganda," and in a number of foreign specialized publications – "Securitization of Memory During the Pandemic: Cases of Russia and Latvia," "Memory Policy in Latvia and Ukraine," etc.
Academic interests: memory policy, oral history, ethnopolitics, nationalism studies, political development of the Baltic states.
Serhii Pakhomenko received a fellowship at the Center for Urban History in cooperation with Lund University. He participates in projects to document the experience of Russian aggression against Ukraine.